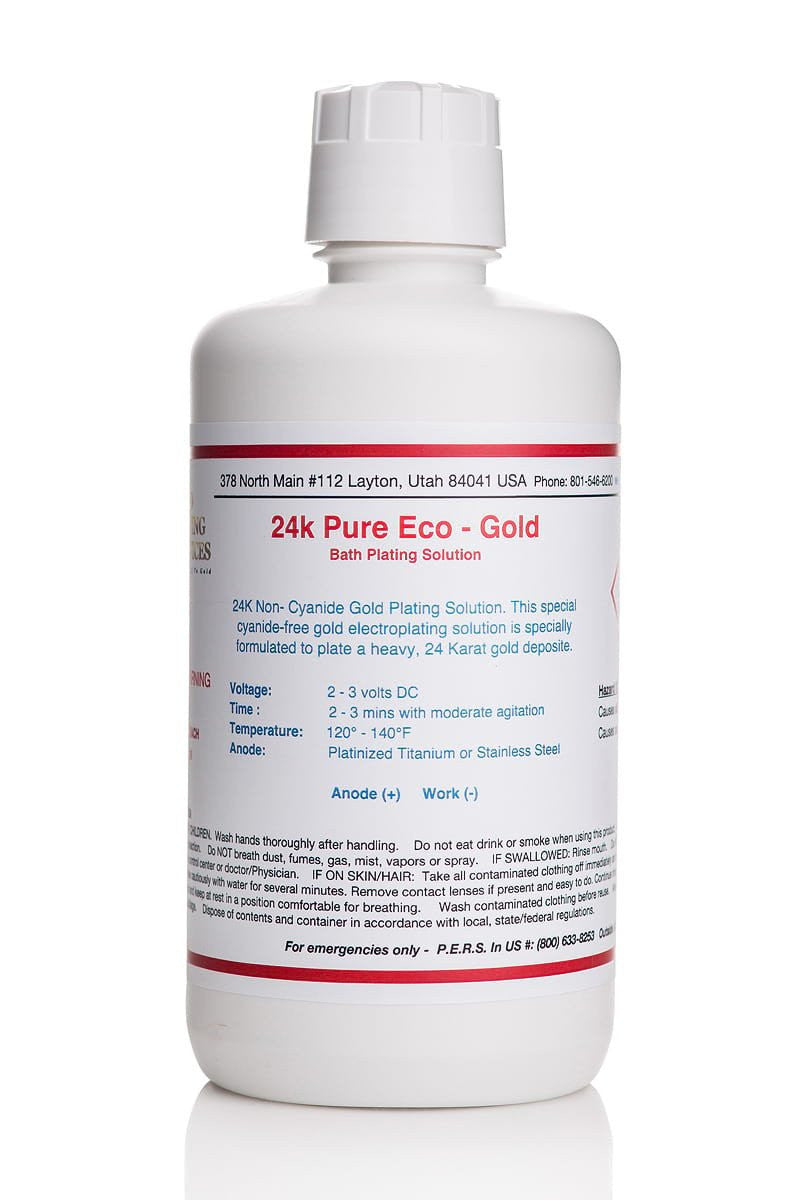 24K Pure Eco - Gold Plating Solution operates at a high cathode efficiency producing a pure gold deposit which meets ASTM B488.
This cyanide free, sulfite gold complex solution produces a lustrous to bright gold deposit with relatively low internal stress. This type of high purity (99.99% gold purity) deposit is typically used in the medical, semi-conductor, electronic, and PWB industries where soft, high purity gold is required. This solution should not be used for Jewelry.
Note: Due to the grain structure of this type of gold deposit the reflective qualities of the surface will become noticeably "matte" with increased thickness.  
Eco Gold requires a Stainless Steel anode, voltage meter setting at 2-3V (2.7 is optimal), the time to deposit one micron is ~5.5 minutes and recommended temperature is room temperature to 100˚F.
 Purity                   99.99+ percent gold minimum (24 karat)
Hardness              Knoop hardness < 90 (typically 55-60)
 Safety Data Sheet for this product.
Technical Data Sheet for this product.
Check out our New Plating Procedure Chart for details about our products and how to use them. 
Customer Orders available. Price Varies on amount of Gold Content. Please call or email for pricing for your specific need.
Gold Content-     0.25 – 1.5 Troy oz. per gallon, as per customer specification
Customer Reviews
Write a Review
Ask a Question
03/19/2022
zFPWdwPk

1
03/19/2022
e

e