Universal Plater - Chrome Edition is a powerful and versatile system for those who want all of the features of the standard Universal Plater Kit, along with the added ability to gold plate onto chrome plated surfaces. The Universal Plater - Chrome Edition is an economical and equally powerful alternative to our flagship system, The Gold Star, our original professional automotive gold plating system.
This system allows the user to easily switch between Normal Plating and Chrome Stripping modes. The 10 ampere power supply will allow you to tackle virtually any project.
The user friendly design and color coded application handles make it simple to produce professional plating results onto virtually any conductive metal surface.
For gold plating onto Chrome Plated items, it really is as easy as:
1) - Strip existing chrome.
2) - Activate the underlying nickel.
3) - Apply a rich, beautiful layer of hardened 24K gold.
Check out our New Plating Procedure Chart for details about our products and how to use them. 
Items Included in the Package:
Universal Plater - Chrome Edition Machine
12 volt, 10 ampere power supply
(3) Color coded Combination Application Handles, complete with Stainless Steel 1/8" to 1/4" Conversion Bits and Common Lead Wire with with Alligator Clip.
(1) 1/8" to 1/4" Nickel Conversion Bit 
(10) Wooley Sleeves
(9) Gold Sleeves
(3) Medium Plating Tips for Fine-select Pen Plating
(3) Ultra Fine Plating Tips for Fine-select Pen Plating
(1) 16 oz bottle of the following solutions:  Chrome Stripping Solution*,  Surface Activator Solution (Nickel Activator), & Wood's Nickel Strike Solution
(1) 8 oz 24K Brush Gold (Gel) - Contains 2.5 grams of fine gold -

Option 1 

                                                                OR
(1) 4 oz 24K Brush Gold

Contains 1.25 grams of fine gold (Gel) & 

1 oz High Concentrated 24K Pen Gold - Containing  1.25 grams of fine gold -

Option 2
Add the Car Accessory Package for only $255 More
The Car Accessory Kit is an add-on package designed to be used with the Universal Plater Chrome Edition. This kit will help you add efficiency and ease of use to your car plating experience. The Drain Pan rolling cart allows you to place your Universal Chrome into a specialized holder in your drip pan for easy handling and accessibility. The chemicals flow down the drip apron into the pan for easy clean up. The Accessory Roller Seat is also on wheels and provides easy access to the emblems you are plating as well as all of your chemicals.
Items Included in the Car Accessory Package:
All items included in the Universal Plater - Chrome Edition - Option 2 

Accessory Roller Seat

Drain Pan Rolling Cart

Universal Chrome Drain Pan

(3) Drain Aprons

Roll of 88 Tape

Mother Mag Polish

25' Ground Extension Cord

Spray Rinse Bottle

Roll of Paper Towels

Gloves and Safety Glasses
* The chrome stripping solution must ship UPS ground. 
DO NOT FREEZE GEL SOLUTION. Freezing WILL damage gel solutions! 
Users Guide - Click here
California residents: Click here for Proposition 65 warning.
Aluminum - Bare aluminum cannot be plated onto with any of our kits.  Aluminum requires a specialized under-plate process that is not suitable for consumer level plating operations. This process must be performed on an industrial level by trained professionals. We do not sell the process or provide support for plating onto unprepared aluminum surfaces. Any attempts to plate onto bare aluminum with our products will not work, please purchase with this in mind. 
If you have a project that requires plating onto aluminum, you may consider sending the parts to Gold Plating Services to be plated by our technicians.  We can provide the required nickel under-plate for a nominal charge. We can then gold plate, or chrome plate your item or return it with the nickel under-plate.  After the aluminum has the proper nickel plate it can then be plated with the metal you desire using our Universal or Jewel Master Series kits.
Gold Plating Car Emblems
Un-Boxing and set-up of the Universal Plater Chrome Edition
Plating Car Emblems with Car Kit (Additional $300)
Prepping your sleeves is important whenever a new sleeve is used:
Customer Reviews
Write a Review
Ask a Question
Filter Reviews:
machine
plastic
solution
ease
couple
Bath Plater
videos
eye protection
joke
equipment
06/26/2020
Jorge g.
United States
Great product
Machine works great still need to learn little more about the use but so far great
04/28/2020
Luis M.
United States
LOVED IT
IT IS BETTER THAN EXPECTED TO BE HONEST IF YOU HAVE THE MONEY TO BUY THIS GREAT MACHINE PLEASE INVEST IT WISELY ON THIS PRODUCT!!!!
05/30/2019
Juan R.
United States
First time user
Easy to use & set up just like the videos. Happy with my purchase
06/18/2019
Gold Plating Service
Hi, Juan. We are glad that you are having success with your Universal Plater - Chrome Edition. We are making more video's every week. Subscribe to our youtube channel for our newest video's!
Starting a part-time business - Great experience with Gold Plating Services
We recently purchased a Universal Plater Chrome Edition and the add-on Bath Plater; they arrived fast and were well packed. We had watched the instructional videos many many times so we had the machine set up very quickly. We wanted to start plating immediately but after reading the Material Data Sheets we decided to invest in eye protection, a respirator, and a rubber apron, the kit came with a set of rubber gloves and safety glasses but we wanted heavier duty PPE. Be warned the chemicals are no joke and proper PPE should be used. After we had it all together we started on the sample wrench that came with the Universal Machine and the lures that came with the bath plater. The equipment worked as advertised, we were amazed at how easy it is! We have since plated coins, a trailer hitch, knives, and a couple of stainless tumblers. The kits came with plenty of solution and it is easy to calculate how much gold it takes per item based on the square inch measurement of the item and amount of time plating. The equipment is well built and functions without any problems. I haven't had any interaction with the customer service but I am basing my rating solely on the quality, functionality, and ease of use of the equipment. We are looking forward to a long and prosperous relationship with Gold Plating Services.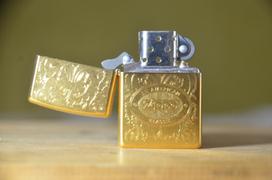 03/29/2019
Gold Plating Service
What a great review, Bill! We are so very pleased to hear that you are having such great success. Most of our customers buy the kit and we never hear from them again, except for the orders that they keep placing. So it's really nice to see some great feedback like this. We appreciate you taking the time to write such a thoughtful review. We hope it is helpful to anyone considering purchasing our products. You may be one of those who never needs to interact with our customer service personel. In the event that you ever do need anything, please do not hesitate to reach out, no matter how big or small the issue may be. We are here and want to support you and help you achieve great success! Wishing you a prosperous and rewarding journey with electroplating.
Machine tursn off
Everything ok on plating plastic on chrome but I notes that I was plating a aluminum chrome rim the machine was turning off on stripping the chrome but I waited and goded done and plated the rim just want to now if this normal or it can plated chrome on aluminum but overall works great thanks