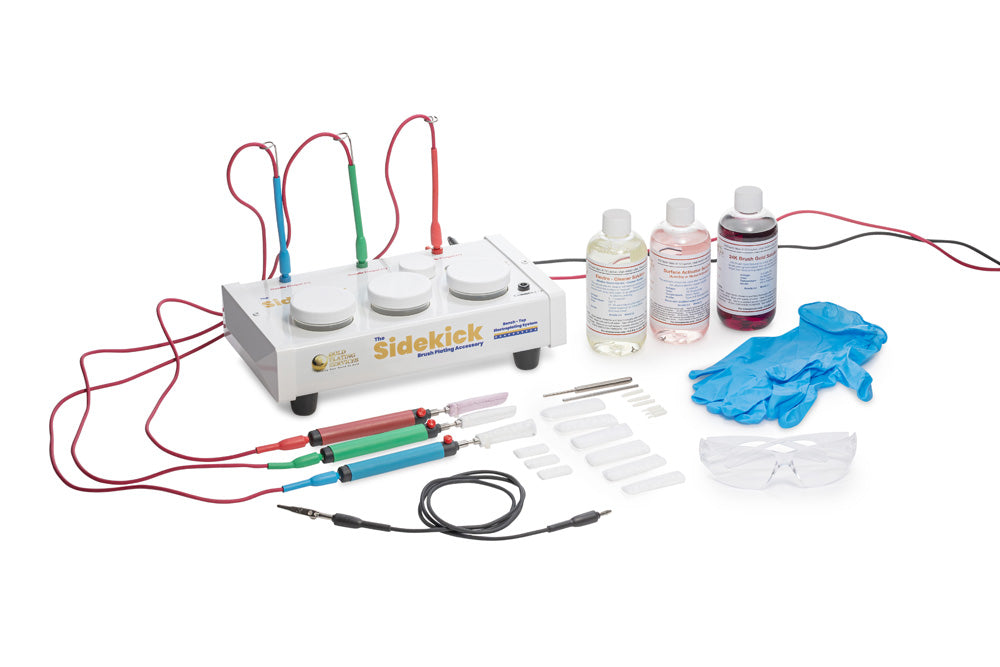 The SideKick Add-on for Fine Select and Brush Plating - This kit was developed for Jewel Master and ProLab users who want to have the option of performing brush plating operations with their current bath plating setup. When used with the Jewel Master this popular add-on kit includes the components necessary for most brush plating operations.  The SideKick will work with any other suitable power source that provides necessary output requirements.
Accessories Included: 
(1)     The Sidekick Control Console - 
(1)     Set of Red and Black Interconnect Cables
(3)     Color coded Combination Application Handles, complete with Stainless            Steel 1/8" to 1/4" Conversion Bits (Anodes) and Common Lead Wire with            with Alligator Clip.
(1)     1/8" Stainless Steel Bit
(1)     1/8" to 1/4" Nickel Conversion Bit (Anode for the Wood's Nickel Strike)
(6)     1/4" Application Sleeves
(3)     1/8" Applications Sleeves
(3)     Ultra fine Pen Plating Tips
(3)     Medium Pen Plating Tips
(1)     Pair of Safety Goggles/Gloves
Chemicals available with the SideKick:
(1)  4 oz or 8 oz Bottle of 24K Brush Plating Gold Solution
(1)  8 oz Bottle of Electro Cleaner Solution
(1)  8 oz Bottle of Surface Activator Solution
Note: Customers who want to plate onto stainless steel will need to purchase Wood's Nickel Strike or TriVal Acid Gold Strike separately.
Setup Instructions can be found 
HERE
Check out our 
Plating Procedure Chart
 for details about our products and how to use them.  
Safety Data Sheets (SDS)  can be Found
HERE
California residents: 

Click here

 for Proposition 65 warning.
 Please watch this video to learn how to prep your sleeves:
Customer Reviews
Write a Review
Ask a Question
Filter Reviews:
1911
Thank You Gold Plating
Services
I Gold Plated My 1911A1
12/09/2020
Luis M.

United States
Sidekick
The Sidekick Brush Plating Kit Work Every Good. I Gold Plated My 1911A1 45Acp Pistol Slide And It Came Out Really Nice. Thank You Gold Plating Services!!!