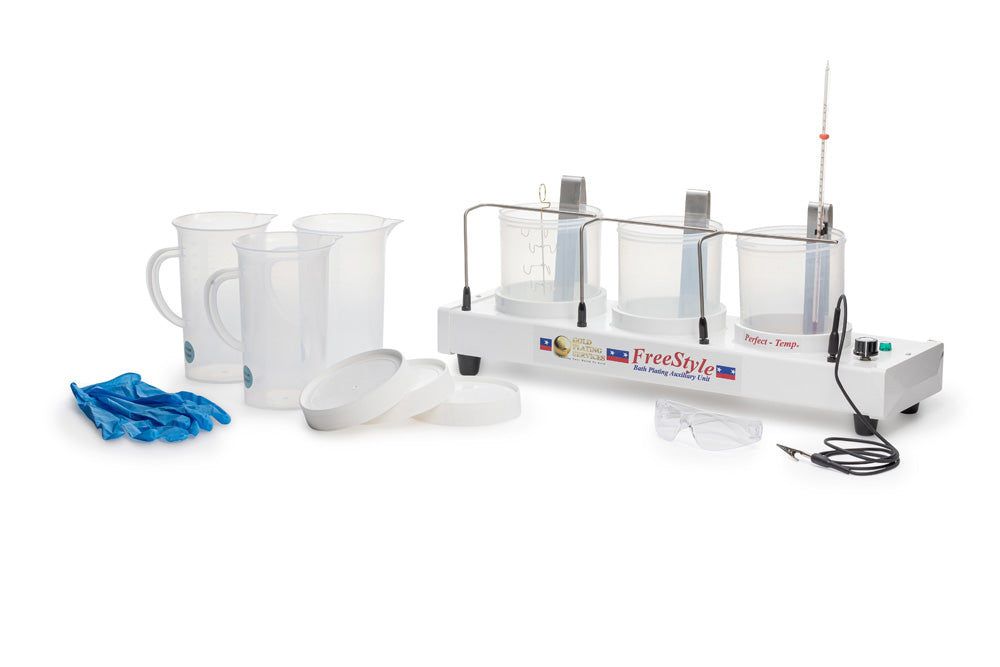 The Freestyle Bath Plating Unit This unit makes bath plating easy for those who already have a brush plating kit or are looking to do both Brush and Bath plating.
We developed this FreeStyle Plating add-on unit for use with our Universal Plater and Universal Plater - Chrome Edition kits.  However, this unit can be used with any power supply or brush plating kit. 
It connects by simply plugging the red/black wire from the unit to your rectifier or kit.  The Stainless Steel Anodes provide the Positive (+) charge to your solution and plug directly into the kit, eliminating any messy wires that are present in pieced-together kits. 
The Titanium Buss bars carry the Negative (-) charge and also plug directly into the kit - these swing over the plating cells so that you can simply hang your pieces on the supplied Ring Rack. As soon as it makes contact the process begins!  Check out our video below to see how easy this exciting new kit is to use.
Accessories Included:
(1)

     FreeStyle Console

 (3 work stations)
(2)

    

Type 316 SS Easy Anodes(Green & blue)

(1)     Type SS Easy Anode with thermometer clip with any Bright Gold                          or Silver Options

(1)      Bagged Graphite Anode (

Only with Pure Gold & Palladium Options

) 
(3)    

Titanium Plated Buss
(1)

     

Black Common Lead w/alligator clip
(1)

     

Red/Black 44" Lead wires 
(3)

     

Nalgene Plating Cells with lids

(3)     

Rinse Beakers  

(1)     

Thermometer
(1)

      

Ring Rack

(1)      

Quick

 

start

 

sheet

 

with

 

8

 

practice

 

pieces

(1)      SDS/TDS INFO Card
Choose your solutions:
(1) Liter (32oz)  Bright Gold Solution, Palladium or Silver NC Solution depending on which option was chosen. 

(1) 

Liter (32oz)  Electro-Cleaner Solution

(1) 

Liter (32 oz) Surface Activator
Setup Instructions can be found

 

HERE
Check out our 
Plating Procedure Chart
 

for details about our products and how to use them.  
Safety Data Sheets (SDS)  can be Found
HERE
California residents: 

Click here

 for Proposition 65 warning.