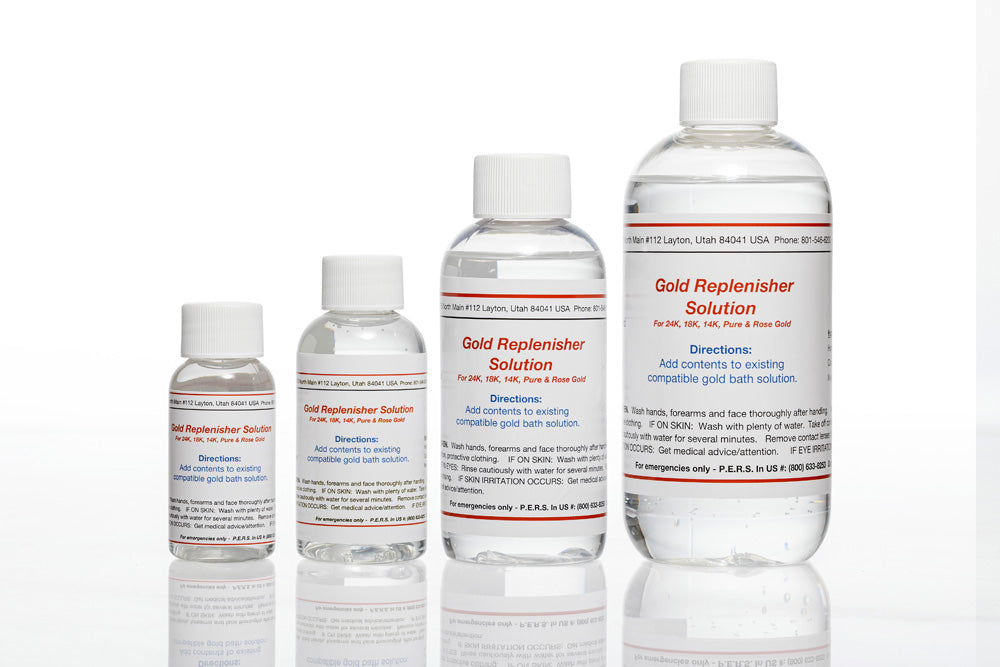 Proper gold bath maintenance is an important part of producing consistent gold plating results. Maintaining the gold content of the solution is probably the easiest and most effective part of maintaining your gold bath. Low gold content can be the source of several problems ranging from inconsistent plating rates to actually damaging the bath due to fungal growth in the solution. Don't throw out your Gold Solution just because the gold levels are low. Restore your gold levels simply by adding our Gold Replenisher to your existing gold bath. This gold replenisher works with our Bright 24K, 18K, 14K, Rose Gold and 24K Pure Gold Solutions.
Replenishing your gold solution is easy. You can add to an existing gold bath with an unknown gold content to bring the gold content up to factory levels. For the most predictable gold content, we recommend that you use our Gold Replenisher to add the amount of gold you estimate a project will consume prior to starting the project. It is important to note that under normal conditions, "too much" gold doesn't have any detrimental effects. 
Each gram of gold is capable of covering 320 square inches to 10 microinches (.25 micron) thickness (achieved in ~1min 20sec at 2.8v). 
Our products are formulated with special additives. It is not recommended to add gold replenisher to any other type of gold plating solutions other than those specifically listed on this page. 
We strongly suggest keeping your Jewel Master 1-liter bath gold levels at 2 grams or above for the best and most predictable plating results, and the ProLab cm 5000 mL baths at 8 - 10 grams or above. 
As your gold content goes under the threshold, the deposition rate reduces. So if you were able to plate a half micron in 5 minutes, it will now take longer to achieve this thickness due to the reduced gold content in the bath. Five minutes may only give you a decorative thickness. For some applications this may not be important, but many applications require a specific thickness to meet customer requirements.
Keeping your gold content above the factory threshold will allow you to feel confident in the thickness you are plating and providing for your customers as well as reduce the amount of time plating the items. Time is money. 
As mentioned above, another reason to keep your gold content above the threshold is to prevent fungal growth in the gold plating bath. The components of the gold in the bath actually prevent the fungus from growing, so as the gold content reduces below the factory level, the bath has less ability to fight the fungus. If the gold content gets too low, the fungus can grow very quickly, especially if it's not being used. At this point the bath is damaged and will need to be replaced. Mild fungus growth can cause cloudiness in the gold. It will begin where the surface looks like a film is on the gold. There is a photo attached below showing this. 
Check out our page Plating - an in Depth Look for a more detailed information.
Discount pricing is built in.
The more gold you buy, the lower the price per gram you pay.
* Gold replenisher will be shipped in bottles containing 1 gram per fluid ounce of solution. 
 *Price per gram is subject to change without notice.
Check out our 
Plating Procedure Chart
 for details about our products and how to use them.  
Safety Data Sheets (SDS) can be found
HERE
Technical Data Sheets (TDS) can be found HERE
California residents: 

Click here

 for Proposition 65 warning.
This is a photo of what your gold will look like when the fungus has started to grow.