Four Module Gold Plating System - ElectroCleaner, Surface Activator, Palladium & Gold
ProLab cm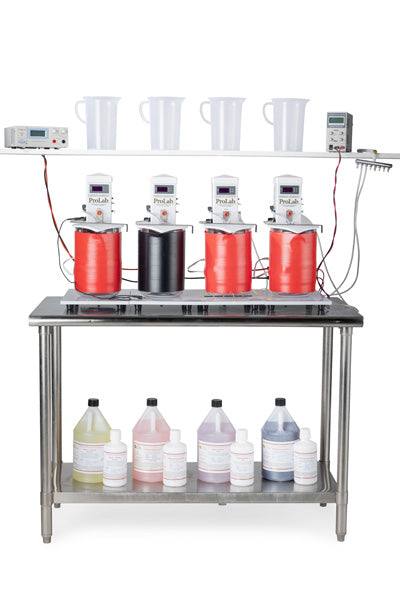 This ProLab cm Four Module Gold Plating System is the perfect choice for applications where the final plate will be a beautiful, bright Palladium-finish. This system is also the right choice for applications where a palladium underplate is to be applied as a diffusion barrier for substrates such as silver, copper alloys, or other base metals that tend to diffuse through normal gold plated thicknesses.
This four-module system is appropriate for items where the palladium will be plated directly onto substrates not requiring any special activation or other underplates. Some examples of this application are Palladium plating onto nickel-plated items, restoration of previously gold plated items, or gold plating onto copper alloys such as brass, bronze, or copper where an underplate is desired to prevent diffusion of the substrate through a normal thickness of gold plating. This four-module gold plating system comes with Electro-Cleaner Solution, Surface Activator Solution, Bright Palladium Solution, and your choice of gold plating solution, you can choose from 24K, 18K, 14K, or Pure Gold Solutions. 
The beauty of the ProLab cm systems is that should your process requirements change, a Three Module system can easily be expanded to a Four Module system with the addition of another process module such as the Bright Nickel Module or even a Five Module system with the addition of yet another process module such as the Bright Acid Copper Module, TriVal Module, or Wood's Nickel Strike Module. The expansion of the ProLab cm is easy without requiring any changes to your original system.
Accessories Included:
(4) Power Towers with accessory components 
(1) Non-Heated 5000 mL glass beaker with titanium anode frame for the Surface Activator Solution
(3) Heated 5000 mL Glass Beakers with Titanium Anode Frames for the Electro cleaner, Palladium & Gold Solutions
(4) 2000 mL rinse beakers
(4) ProLab Stainless Steel Anodes (Electro Clean)
(2) 8" ProLab bagged Graphite anode inserts (Surface Activator) 

(2) 6" ProLab bagged 

Graphite 

anode inserts

(Palladium)
(2) 6" ProLab bagged Graphite anode inserts (Gold)
(1) 30 v/20 amp power supply
(1) 30 v/10 amp power supply (for use with gold)
(1) Air pump and tubing for the Gold Solution 
(1) Sample plating rack
(4) Beaker caps
(1) Safety Kit (goggles/gloves)
Solutions Included:

(1) Gallon

+ 1000 mL

of Electro Clean 
(1) Gallon

+ 1000 mL

of Surface Activator 
(1) Gallon + 1000 mL of Bright Palladium
(1) Gallon

+ 1000 mL

of Gold
PLEASE NOTE: $2000 Insurance added to each box is included in the sale and shipping price. 
Setup Instructions can be found HERE
 Warranty - Click Here

ATTENTIONS INTERNATIONAL CUSTOMERS:  Our website will charge you a base rate for international shipping and handling. Due to the high value of this product it will be shipped via DHL to ensure a quick and successful delivery. Customers will be responsible for any duties and taxes required by their country. If the shipping cost is significantly more we may need to reach out for additional payment before the items can be shipped. If the shipping cost is significantly less you may receive a refund for the difference. Please keep in mind our ProLab CM setups are shipped in multiple boxes.