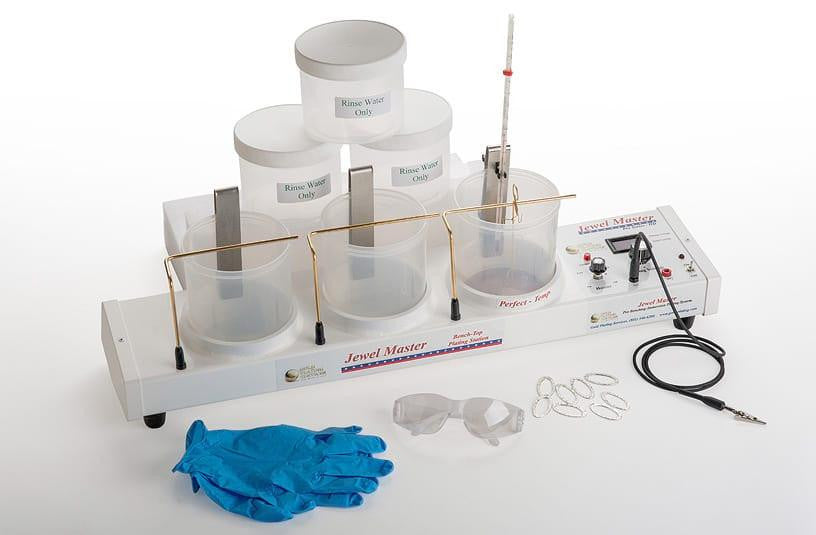 The Jewel Master is the Best Electroplating Bath Kit Available For Achieving Professional Results at an Affordable Price
Gold Plating Services presents the newest innovation in easy-to-use workshop or lab plating equipment.

Using this state-of-the-art technology, you can easily and economically provide a gold, rhodium, nickel, silver, palladium or copper electroplate that will really last. The Jewel Master's 'Easy Anode' system is totally self-contained, which means the anodes and cathodes require no wires. You simply place your item on the rack and hang it on the titanium bus bar. This kit sets up in seconds and only requires the power cable included to operate all three plating cells. All other electroplating kits require excessive amounts of lead wires causing an unsightly and high-maintenance jumble of pieced together components. The Jewel Master provides a perfect combination of specially developed electroplating solutions, Micro-Control electronics, and Perfect-Temp solution heating. The result is an easy-to-use plating system that sets up in seconds and won't take up much room in your shop.

With the Jewel Master on your workbench, you can:
Set up for plating in less than one minute
Maintain precision temperature and voltage control 
Plate hardened 24K gold thickness up to 100 micro-inches, soft pure gold to almost any thickness

 

Close up and put away in seconds when you've finished plating
The Jewel Master is extremely convenient for immersion plating

Will NOT plate onto Aluminum!
THIS OPTION DOES NOT INCLUDE ANY CHEMICALS!
Equipment Only Package (Option 1) Includes:
(1)       Jewel Master Integrated gold plating system console
(1)       12volt, 10 ampere Power Supply
(3)       Type 316 stainless steel easy anodes
(3)       Titanium busses for holding and connecting the work during the                           pretreatment and plating process.
(1)       Black common lead with alligator clip
(1)       Sample Plating Rack
(3)       1 liter, resealable Nalgene pretreatment and plating beakers with lids.                            (working dimensions: dia. 4.25" x depth 4.5")
(3)       Beakers for rinse water.
(1)       Thermometer (Fahrenheit) - Celsius available upon request
(1)       Set of Safety goggles & gloves
INTERNATIONAL CUSTOMERS:  If your area supplies 220 volt power, then you will need to use a converter for the white heater plug. The wattage is less than 50 watts, so a small converter will work. 
Connecting the white heater cord to 220 volts will instantly destroy the heater warranty and will not be covered.
The heater MUST be connected to 120 volt AC 50 -60 Hz  ONLY!
Setup Instructions can be found 
HERE
Check out our 
Plating Procedure Chart
 for details about our products and how to use them.  
Safety Data Sheets (SDS)  can be Found
HERE
California residents: 

Click here

 for Proposition 65 warning.
Are you interested in brush plating too?
Check out The Sidekick to greatly extend the range of gold plating operations you can perform. With the optional combination handles and the appropriate solutions you can selectively plate fine detail or brush plate larger surfaces. With our pen plater, select gold plating is fast and easy.




 Nickel Plating with the Jewel Master
 Rose Gold Plating with Jewel Master
 Gold Plating onto Braces
Are you interesting in knowing how you can make your own electroplating rack?
Watch this video of us showing how we make our racks. 
Customer Reviews
Write a Review
Ask a Question
04/08/2021
Francis K.

New Zealand
Jewel Master Pro option 1
I have found the plating kit very easy to use and the information booklet comprehensive. My main concern is the cost, by the time I had imported it to NZ it was double the original price in NZ dollars. Perhaps you could have them made under licence here or appoint an importer. I think many jewellers would love to own one of these kits if the cost of ownership could be reduced, but then again, with a population of 5 million we probably don't have a big enough client base. I bought 18ct solution locally and I will be keeping a log of my work and seeing how temperature and plating time affects the final colour. One thing is for sure, it is hassle free to use and the results speak for themselves. One thing, cleanliness is key, there are no short cuts to a good finish. The gold plate will highlight every defect, ripple, surface grain or pinhole, so a perfect finish is essential. Generally very pleased with the kit.
Great product but..
Product was great but slightly overpriced. If yall can send me 2 more beakers with covers that would be great and I would definitely change my review. I expected to have 6 sets. Turns out 3 are just for the rinse. 3 more beakers including shipping to Canada is quite pricey.