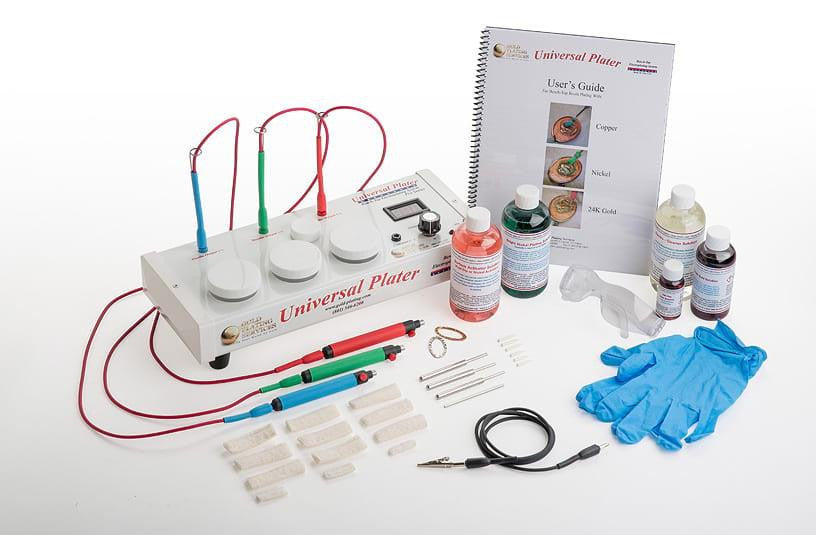 Universal Plater Kit  gives you the equipment you need to quickly setup and plate these projects without the bother of constantly changing tips, handles or solution beakers.
Gold plating is a fun satisfying process that can be incorporated into many different types of businesses or personal projects.
The Universal Plater Kit comes with complete instructions and everything needed for gold plating onto most conductive metal surfaces. With the Universal Plater gold plating is easy to learn; the kit includes a step-by-step tutorial that guarantees your first plating experience will be fun and successful. If you ever have questions about other types of work we provide unlimited free technical support.
*This kit is not capable of stripping chrome. Please refer to our Universal Plater - Chrome Edition if you need to strip chrome prior to plating. Chrome Stripping Solution will not work with this version.
Universal Plater Options
Option 1 - Standard Universal kit - All included items are listed below.
Option 2 - Includes all items in standard kit plus - (1) 8 oz Wood's Nickel Strike to plate onto stainless steel.
The standard Universal Plater kit Includes:

(1)  Universal Plater Machine -

 

This kit will NOT plate onto chrome surfaces

(1) 12 volt, 6 ampere power supply
(3) Color coded Combination Application Handles, complete with Stainless Steel 1/8" to 1/4" Conversion Bits (Anodes) and Common Lead Wire with with Alligator Clip.
(1)  1/8" Stainless Steel Bit
(1) 1/8" to 1/4" Nickel Conversion Bit (Anode for the Wood's Nickel Strike)
(9) 1/4" Application Sleeves - 3 already on handles ready to plate.
(3) 1/8" Applications Sleeves
(3) Ultra fine Pen Plating Tips
(3) Medium Pen Plating Tips
(1) Additional 4 oz Select Working Solution Beaker
Safety Goggles/Gloves
Chemicals included in the Universal Plater Kit:
(1) 1 oz bottle 24K High Concentration Pen Plating Gold Solution. 

(1) 4 oz bottle 24K Brush Plating Gold Solution 

(1) 8 oz bottle Bright Nickel plating solution 

(1) 8 oz bottle Electro-Cleaner Solution 
(1)  8 oz bottle Surface Activator Solution
Option 2 Includes all items above as well as: 
(1) 8 oz bottle Wood's Nickel Strike - Only with Option 2 (Needed for plating onto stainless steel surfaces.) 
 *IMPORTANT: The International Version of the Universal Plater - Option 2 with Wood's Nickel Strike will NOT include ready to use Wood's Nickel Strike. This solution must ship by ground transportation only. Therefore, we cannot ship this solutions to any destination requiring air transport. 
Woods Nickel Concentrate can easily be fabricated into Wood's Nickel Strike Solution, instructions are included with your purchase. You will need 
Woods Nickel Concentrate, 
Hydrochloric Acid and Distilled water.
Setup Instructions can be found 
HERE
Check out our 
Plating Procedure Chart
 for details about our products and how to use them.  
Safety Data Sheets (SDS)  can be Found
HERE
California residents: 

Click here

 for Proposition 65 warning.
Plating onto Stainless Steel - Option 2 Setup
 Plating onto Nickel - Option 1 Setup
Gold Plating a Stainless Steel Knife - Option 2 Setup
Gold Plating onto Guns - Option 2 Setup
Please watch this video to learn how to prep your sleeves:
 Using the Universal to Gold Plate a Katana