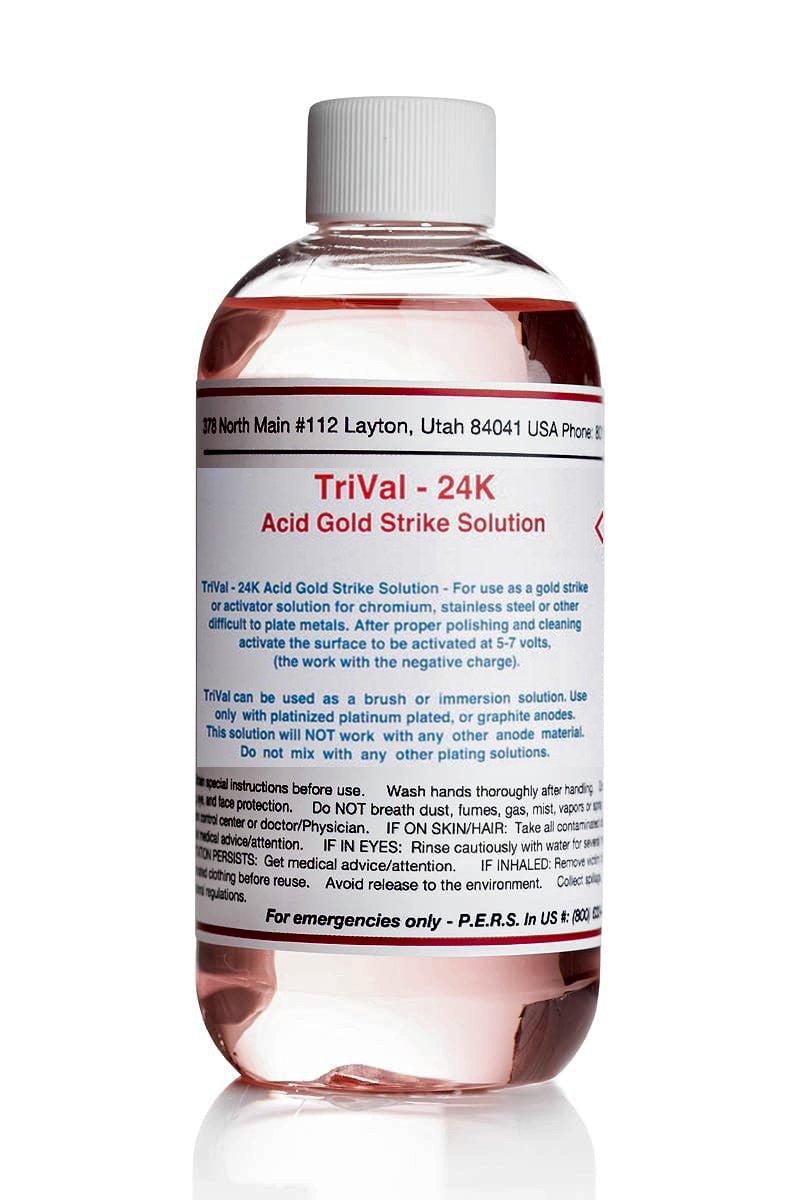 TriVal is a fully complexed 24k acid gold strike (potassium auric-cyanide) electroplating formulation. We have developed this gold process to be used as a pre-treatment step that will allow the user to plate 24k gold directly onto extremely difficult to plate alloys such as stainless steel, invar, kovar, or chrome.  

The tightly bound complex solution allows this superior gold strike solution to have a pH of less than 1. This solution ensures concurrent activation and deposits a thin layer of metallic gold for maximum adhesion.
Because of its low cathode efficiency this solution is best used as a pretreatment only. The final gold deposit should be applied using a high efficiency solution such as our 24K Bright Gold Solution or 24K Pure Gold Solution.
This solution requires a graphite or platinum plated titanium anode.
If you'd like more information on the research behind the development of this product, you can read this article. 
ATTENTION INTERNATIONAL CUSTOMERS 
TriVal cannot be shipped as a ready-to-use solution. Instead, please select our TriVal Base Solution. This will require the addition of reagent grade hydrochloric acid (not included with purchase) to make a ready-to-use TriVal solution. Instructions for combining the TriVal Base with the hydrochloric acid, along with the SDS sheets (Safety Data Sheets) will be included with your package. 
*TriVal Base Solution is shipped internationally in 1 liter containers only!


Check out our 
Plating Procedure Chart
 for details about our products and how to use them.  
Safety Data Sheets (SDS) can be found
HERE
Technical Data Sheets (TDS) can be found HERE
California residents: 

Click here

 for Proposition 65 warning.
Understanding TriVal 24K Acid Gold Strike
TriVal 24k Gold Acid Strike helping Plate Gun Slide
Using TriVal 24K Gold Acid Strike to Plate Chains
Plating Steel and Nickel with the help of TriVal
Using TriVal on a Tungsten Copper Alloy
Customer Reviews
Write a Review
Ask a Question