Jewel Master Pro HD Kit - Plating Gold onto Stainless steel without Nickel (Option 4)
Jewelry Plating Kit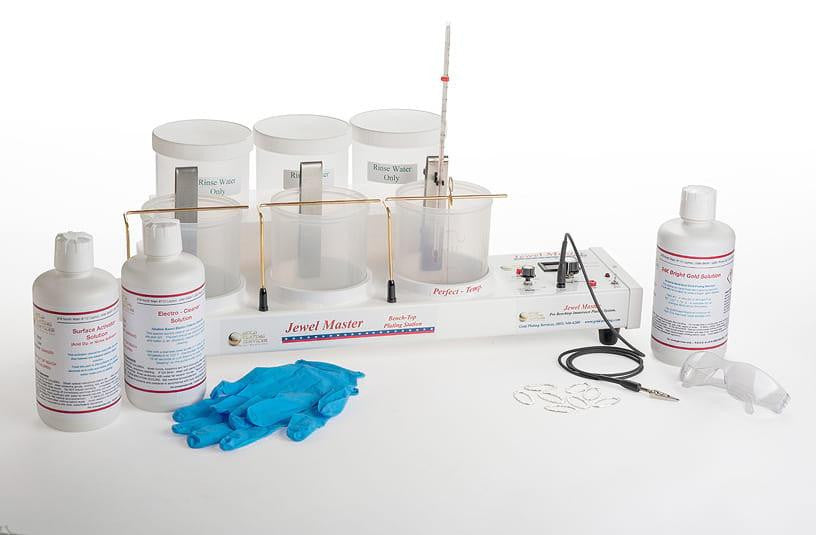 The Jewel Master is the Best Electroplating Bath Kit Available For Achieving Professional Results at an Affordable Price.
This special edition of the Jewel Master contains the standard chemical package plus the chemicals and accessories needed for plating onto Stainless Steel without the presence of nickel. Stainless Steel requires a strike in order for your final plate to adhere properly. We have developed a one-of-a-kind solution called TriVal – Acid Gold Strike that allows gold to be plated directly onto Stainless Steel.  The alternative would be a Woods Nickel Strike. However, for many industries, nickel is not acceptable for various reasons.  For those who need to apply gold directly to stainless steel, this is the option for you and can be found nowhere else!
With the Jewel Master on your workbench, you can:
Set up for plating in less than one minute
Maintain precision temperature and voltage control
Plate hardened 24K gold thickness up to 100 micro-inches, soft pure gold to almost any thickness

 

Close up and put away in seconds when you've finished plating
The Jewel Master is extremely convenient for immersion plating
Will not plate onto Aluminum
The option 4 setup will allow you to plate gold onto most metals, the most common being gold, rhodium, palladium, copper, brass, nickel, stainless steel, or silver.
Jewel Master Gold Chemical Package (Option 4) Includes:
(1)       Jewel Master Integrated gold plating system console
(1)       12volt, 10 ampere Power Supply
(3)       Type 316 stainless steel easy anodes
(1)       Bagged Graphite Anode for the TriVal Gold Strike solution
(3)       Titanium busses for holding and connecting the work during the                           pretreatment and plating process.
(1)       Black common lead with alligator clip
(1)       Sample Plating Rack
(4)       1 liter, resealable Nalgene pretreatment and plating beakers with lids.                            (working dimensions: dia. 4.25" x depth 4.5")
(4)       Beakers for rinse water.
(1)       Thermometer (Fahrenheit) -

 

Celsius available upon request
(1)       Set of Safety goggles & gloves
Solutions Included:
(1) - Liter Electro-Cleaner Solution
(1) - Liter Surface Activator Solution
(1) - Liter TriVal Gold Strike Solution. Used in place of the surface activator solution when plating onto stainless steel.
Choose 1 liter of 14K, 18K, 24K Bright Gold Solution or 24K Pure Gold Solution -

 

The pure gold option will include a bagged graphite anode.
ATTENTION INTERNATIONAL CUSTOMERS - TriVal will not be shipped as a ready-to-use solution. Instead, you will receive 900 mL of TriVal Base Solution. This will require the addition of 100 mL of reagent grade hydrochloric acid (not included with purchase) to make a ready-to-use TriVal Solution. Instructions for combining the TriVal Base with the Hydrochloric Acid, along with the SDS sheets (Safety Data Sheets), will be included with your package. 
INTERNATIONAL CUSTOMERS:  If your area supplies 220 volt power, then you will need to use a converter for the white heater plug. The wattage is less than 50 watts, so a small converter will work. 
Connecting the white heater cord to 220 volts will instantly destroy the heater warranty and will not be covered.
The heater MUST be connected to 120 volt AC 50 -60 Hz  ONLY!
Setup Instructions can be found 
HERE
Check out our 
Plating Procedure Chart
 for details about our products and how to use them.  
Safety Data Sheets (SDS)  can be Found
HERE
California residents: 

Click here

 

for Proposition 65 warning.
| | |
| --- | --- |
|   | The Gold Replenisher  |
Are you interested in brush plating too?

Check out The Sidekick to greatly extend the range of gold plating operations you can perform. With the optional combination handles and the appropriate solutions you can selectively plate fine detail or brush plate larger surfaces. With our pen plater, select gold plating is fast and easy.
Do you need another station for your Jewel Master Setup?  Do you have a 4 step process and only 3 stations to work with?
We have just what you need. You can easily add an extra working station with one of our Bath add on kits.
 

Nickel Plating with the Jewel Master
 Rhodium Plating with the Jewel Master


Rose Gold Plating with Jewel Master
 Gold Plating onto Braces
 Are you interesting in knowing how you can make your own electroplating rack?
Watch this video of us showing how we make our racks. 
Customer Reviews
Write a Review
Ask a Question
Filter Reviews:
college student
Bible
covenant
plate
dream
jewelry
business
experience
gold
pieces
03/19/2022
e

e
11/15/2020
Jessica P.

United States
Amazing
I'm a college student starting a business and I've never made jewelry before. This kit was lovely and I'm still learning but I've made some beautiful pieces ! Excited to see what's to come !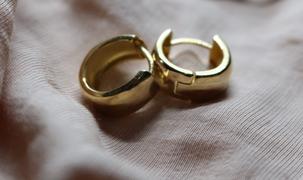 09/22/2020
jeremiah y.

Ghana
feedback on Gold Plating Service purchase- Jewel Master pro
it was a great experience. I love to plate. The machine is easy to use. Thank you for making gold plating a dream come true for me. Any time I plate, then I think of how the ark of the covenant in the Bible was overlaid with Gold. Thank you!