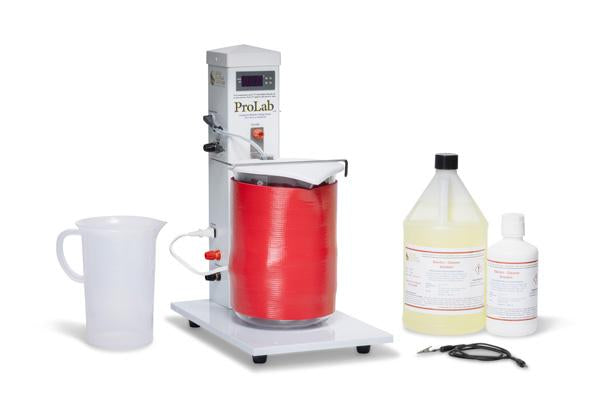 After polishing and surface preparation, Electro-cleaning is the first pre-treatment step required for most plating operations. When plugged into 120 V household current and attached to a suitable power supply the ProLab cm Electro-Clean module provides everything needed for proper electro-cleaning such as precise temperature control and a titanium bus bar to hang the work rack on. 
This Electro-Clean module comes complete with:
(1) Power Tower and accessory components
(1) Heated 5000 mL glass beaker with titanium anode frame
(1) 2000 mL rinse beaker
(4) ProLab stainless steel anode inserts 
(1) Gallon of Electro - Clean Solution
(1) 1000 ml Bottle of Electro - Clean Solution
Power supply not included
Warranty - Click Here
Here is a video showing the Electro Cleaner Solution in a Three Module Station set up paired with an activator solution and our 24K bright gold. 
Here we are demonstrating 24K gold plating onto stainless steel and nickel plated bullet using the 3 Station ProLab cm Set Up with Electro clean and TriVal activation. 
Customer Reviews
Write a Review
Ask a Question
Power tower review
system works great!