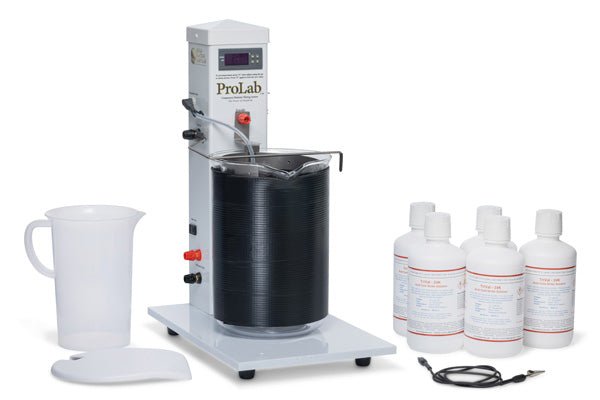 This TriVal module comes complete with:
(1) Power Tower and accessory components
(1) Non-Heated 5000 mL glass beaker with titanium anode frame
(1) 2000 mL rinse beaker
(2) ProLab graphite anode inserts 
(5) 1000 ml bottles of TriVal solution
Power supply not included - SHIPS UPS GROUND ONLY
Warranty - Click Here
ATTENTION INTERNATIONAL CUSTOMERS - TriVal will not be shipped as a ready to use solution. Instead, you will receive TriVal Base Solution. This will require the addition of reagent grade hydrochloric acid (not included with purchase) to make a ready to use TriVal Solution. Instructions for combining the TriVal Base with the Hydrochloric Acid, along with the SDS sheets (Safety Data Sheets) will be included with your package. 
Here we are demonstrating TriVal Activator onto stainless steel and nickel plated bullet using the 3 Station ProLab cm Set Up with Electro clean solution and our 24K Bright Gold Solution: 
Here is a video demonstrating the TriVal solution being used in a 4 station ProLab setup: 
This video shows TriVal being used on a tungsten copper alloy: