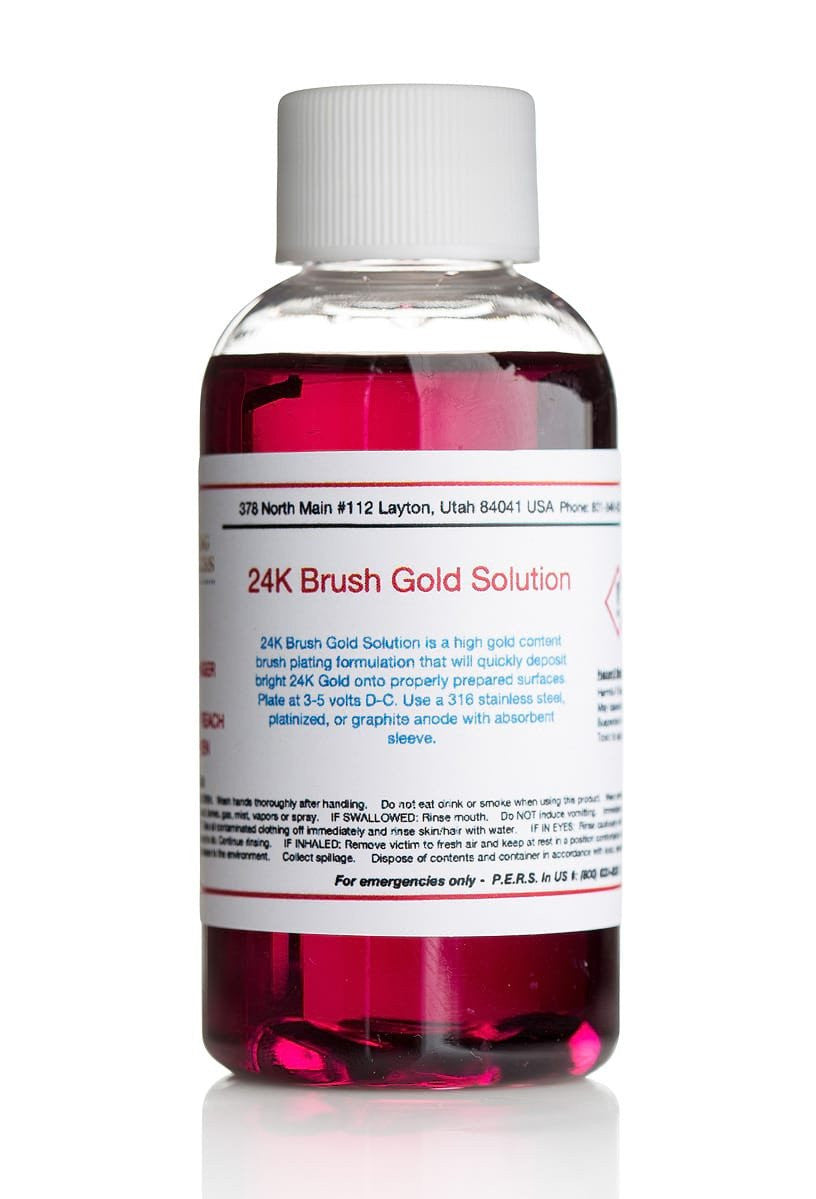 24K Brush Gold Plating Solution is available as a liquid or gel.
Our 24K Brush Gold Plating Solution is a cobalt hardened, acid gold electroplating solution. The high gold content combined with our proprietary system of hardeners, brighteners and other make-up components produces a most beautiful plate on the market.
With our system the cost to revenue ratio is the highest of any brush gold solution available. This profitable cost to revenue ratio considers important factors such as solution cost, the inherent waste of the brush plating process, and the deposition rate of the gold plate. Our proprietary formula is very efficient and produces a consistent, brilliant 24K gold plate onto properly prepared conductive surfaces.
This solution does not contain free cyanide.
24K brush gold requires a stainless steel anode, meter set at 3 - 5 Volts, plating time is as required and the recommended temperature is room temperature.
Theoretical Coverage: One 8oz jar, contains sufficient gold for coverage of up to ~1000 in²* plated to an average decorative thickness. 
What you will need to use this solution properly: 
Our 24K Brush Gold Solution is an electroplating solution that requires the proper equipment and supplies to be used. We recommend electroplating equipment such as our "Brush Plating Kits" which will have everything you need including the following minimum required items.
Minimum Required Items
A source of direct current voltage with a controllable voltage range of one to six volts, (1 VDC - 6 VDC).

An absorbent application "sleeve" that will carry the solution. 

A solution electrode, (anode or plating bit), made of the proper material to apply the positive electrical charge to the solution soaked application sleeve.

An application handle that will hold the anode/sleeve and provide electrical connectivity to the positive terminal of the power source.

A common lead or ground clip that will provide electrical connectivity from the negative, (-) terminal of the power source and the surface being plated.
Check out our 
Plating Procedure Chart
 for details about our products and how to use them.  
Safety Data Sheets (SDS) can be found
HERE
Technical Data Sheets (TDS) can be found HERE
California residents: 

Click here

 for Proposition 65 warning.
GEL CUSTOMERS 
EFFECTIVE NOVEMBER 19, 2021 - During the winter months if this product is ordered with an ORMD solution required to ship UPS Ground the order will be shipped in two different boxes. The most common ORMD solutions are Chrome Stripper, Bright Acid Copper, Silver, & Rose Gold. Due to these solution having to be shipped UPS ground we did not want to risk your gold gel solution to freeze. If the gel freezes the solution will not work properly. 
WINTER GOLD (Gel) - Watch this short video to see how easy it is to turn your liquid solution to gel.  Click here

Is your gel solution thinner or thicker then you'd like, we can help! Read this
DO NOT FREEZE GEL SOLUTION. Freezing WILL damage gel solutions!
Plating Guru Tip! "This premium gold is the top in its class. The proprietary formula goes on fast, at a very low voltage and has just the right gold content to help you conserve gold and reduce waste. The gel is great for car emblems."
Watch how easy it is to use in the this video: