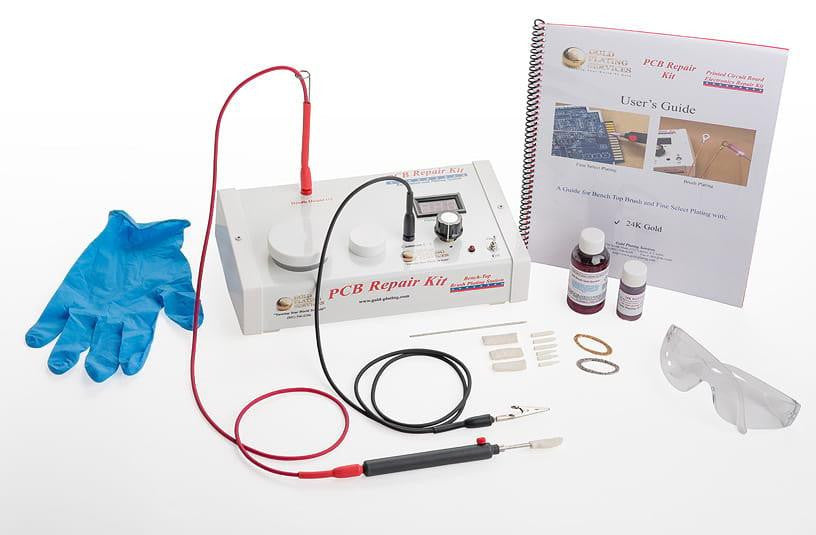 Many applications require a professional " PCB" and electrical contact gold plating repair kit. To fill this need we developed this excellent low cost bench-top gold plating repair kit.
Gold Plating Services presents the newest innovation in a turn-key Printed Circuit Board gold plating repair kit for bench-top brush plating, and fine select gold plating
This gold plating kit includes everything needed for fine select pen plating and brush plating 24K gold onto electronic and most other small  parts.  The gold solution included will produce a cobalt hardened, 24K - Type 1 & 2, grade C gold deposit.  This is the gold we use for electronic and technical applications where durability, conductivity and solder-ability is important.
  PCB Plating Repair Kit Includes:
(1)  PCB Gold Plating Repair console
(1)  9 volt, 1 Ampere Power Supply
(1) Combination fine select / brush plating application handle 

(1) Common Lead with alligator clip 

(1) Type 316 stainless steel contact probe

(1) 1/8" Type 316 stainless steel brush plating bit

(4) 1/8" Application Sleeves

(3)  Ultra fine Pen Plating Tips
(3)  Medium Pen Plating Tips
(1)  1/2 oz 24K high concentration Pen plating gold solution 

(1)  2 oz bottle of 24K brush plating gold solution 
Online users manual and unboxing video containing operational details and color photos of set-up and use of the PCB Plating Repair Kit.

'Quick-start' guide including polished item to ensure your first experience is a success. 
Setup Instructions can be found 
HERE
Check out our 
Plating Procedure Chart
 for details about our products and how to use them.  
Safety Data Sheets (SDS)  can be Found
HERE
California residents: 

Click here

 for Proposition 65 warning.
Important: Application Sleeves come pre-soaked for your convenience with the purchase of any brush plating machine, but when you re-order sleeves it is important to prep them as seen in the video below:








Customer Reviews
Write a Review
Ask a Question