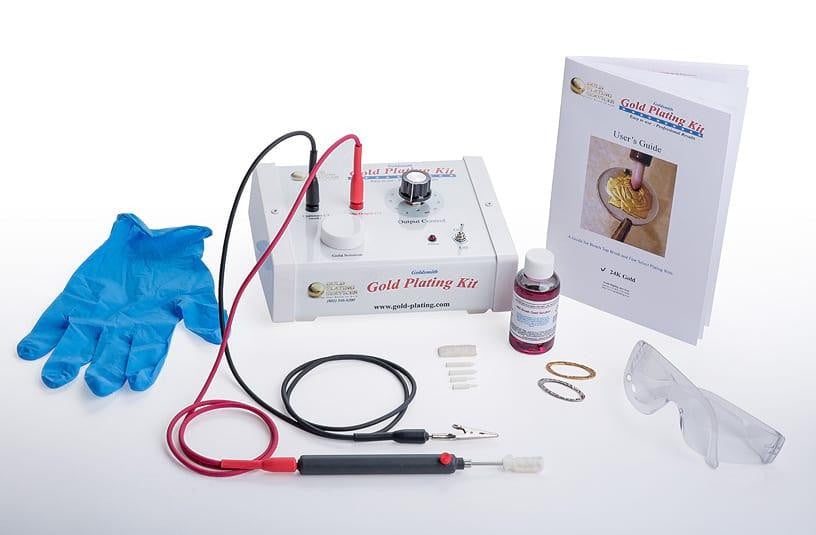 The Gold Smith - Gold Plating Kit is an affordable, high quality kit designed for bench-top brush plating and fine select gold plating. Hobbyists and artists have never had such an affordable, high quality option available before.
This is a basic starter kit that DOES NOT include pretreatment solutions. It is ideal for plating onto small, clean, highly polished surfaces made of nickel, palladium, and gold. Examples include coins, touch-up for minimal areas of an already gold-plated item, and small decorative items.
It is also capable of plating onto highly polished surfaces of silver, copper, brass, bronze, and some types of solder if plated a minimum of ~1 minute per square inch, otherwise a diffusion barrier would be necessary.
This machine will not plate onto: Aluminum, Zinc, Titanium, Chrome, Mild Steel, and Steel alloys to include Carbon Steel and Stainless Steel.
This gold plating kit includes everything needed for fine select pen plating and brush plating 24K gold on surfaces that do not require pretreatment. The gold solution included can produce a cobalt hardened, 24K - Type 1 & 2, grade C gold deposit.
To plate onto metals requiring a 3 step process  see our Universal Plater.
To plate onto Chrome items see our Universal Plater -  Chrome Edition.
The Complete Kit Includes:
(1) - Gold Smith Plating Console
(1) - 9 volt, 1 Ampere Power Supply
(1) - Combination fine select / brush plating application handle 

(1) - Common Lead with alligator clip 

(1) - 1/8" Type 316 stainless steel brush plating bit

(2) - 1/8" Application Sleeves

(2) - Ultra fine Pen Plating Tips
(2)  - Medium Pen Plating Tips
(1) - 2 oz bottle of 24K brush plating gold solution 
Online users guide and unboxing video containing operational details and color photos of set-up and use of the Gold Smith Plating Kit.
'Quick-start' guide including sample item to ensure your first experience is a success. 
Setup Instructions can be found 
HERE
Check out our 
Plating Procedure Chart
 for details about our products and how to use them.  
Safety Data Sheets (SDS)  can be Found HERE
California residents: 

Click here

 for Proposition 65 warning.