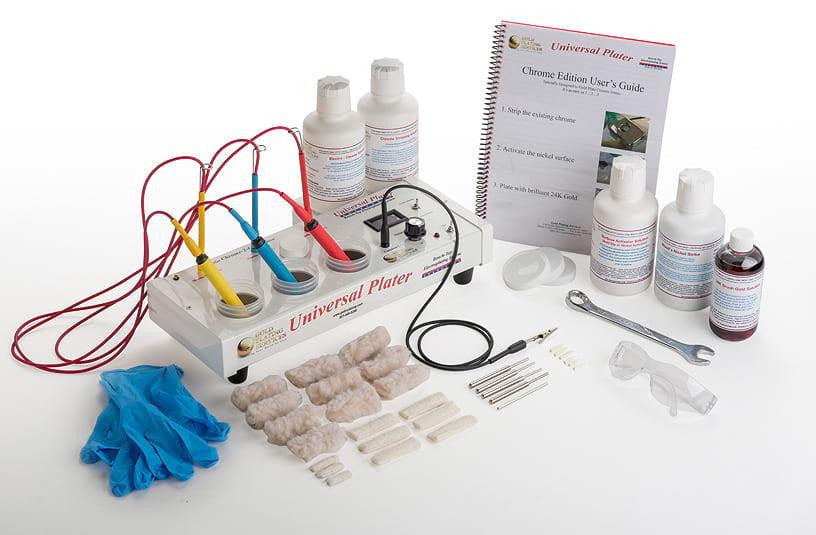 Universal Plater - Chrome Edition  A powerful and versatile system for those who want all of the features of the standard Universal Plater along with the added ability to gold plate onto chrome plated surfaces. The Universal Plater - Chrome Edition is an economical and equally powerful alternative to our flagship system, The Gold Star professional automotive gold plating system.
This system allows the user to easily switch between "Normal Plating" and "Chrome Stripping" modes. The 10 ampere power supply will allow you to tackle virtually any project.
The user friendly design and color coded handles makes it simple to product professional gold plating results onto virtually and chrome surface.
It really is as as easy as:
One - Strip existing chrome.
Two - Activate the underlying nickel.
Three - Apply a rich beautiful layer of hardened 24K gold.
Items Included in the Package 
Universal Plater - Chrome Edition Machine

12 volt 10 ampere power supply
(3) color coded combination Handles with type 316 stainless steel 1/8" to 1/4" conversion bits & Common Lead with with alligator clip

(1) 1/8" to 1/4" Nickel Conversion Bit for the Wood's Nickel Strike

(1) 1/8" Type 316 SS Bit 

(10) 1/4" Wooley Sleeves

(6) 1/4" Gold Sleeves

Medium and Ultra Fine Plating Tips
Solutions Included:
(1) 500ml (16 oz) bottle of Surface Activator Solution (Nickel Activator).

*Chrome Stripper Solution - NOT INCLUDED (see information below)

*Wood's Nickel Strike Solution - NOT INCLUDED (see information below)

(1) 8 oz jar of 24K Brush Gold (Gel) - Option 1                                                                OR
(1) 4 oz jar of 24K Brush Gold (Gel) & 1 oz High Concentrated 24K Pen Gold - Option 2
Do Not let the gel solution freeze!
*IMPORTANT: The International Version of the Universal Plater Chrome Edition does NOT include Chrome Stripping Solution or Wood's Nickel Strike. These two solutions must ship by ground transportation only. Therefore, we cannot ship these solutions to any destination requiring air transport. 
If you are an international customer and want to purchase this system we can help you produce these solutions.
The Chrome Stripping Solution and Wood's Nickel Strike can  easily and inexpensively produced from common components that can be purchased almost anywhere. You will need Sodium Hydroxide (Lye) and Hydrochloric acid.
We will provide you with full instructions on how to combine the components to make your solutions. If you have any questions please contact us via email or phone.
Setup Instructions can be found 
HERE
Check out our

 

Plating Procedure Chart
 for details about our products and how to use them.  
Safety Data Sheets (SDS)  can be Found
HERE
California residents: 

Click here

 for Proposition 65 warning.
Gold Plating Car Emblems
Un-Boxing Setup of the Universal Chrome Edition
Plating Car Emblem with Car Kit (Additional)
Prepping your sleeves is important when re-ordering new sleeves:
Why is the gold not adhering?
Customer Reviews
Write a Review
Ask a Question
Filter Reviews:
instruction manual
gold layers
show bike
hell
System
problem
results
equipment